The story of Zanjeer, India's heroic bomb-detecting dog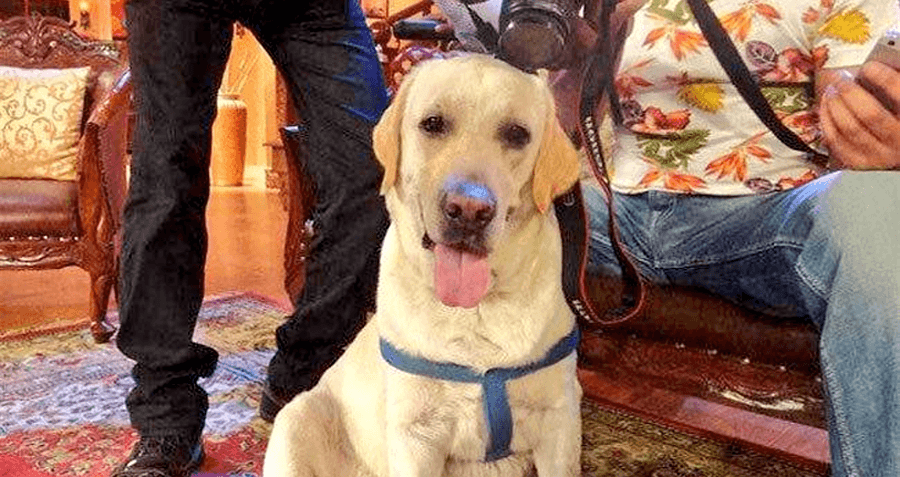 A beloved Labrador Retriever, Zanjeer saved countless lives during the 1993 terrorist attacks in Mumbai. When he died in 2000, he was honored with a full state funeral.
A hero among dogs, Zanjeer the Labrador Retriever was an irreplaceable legend in the canine world. As a member of the Bomb Detection Squad of the Mumbai Police, he averted countless deaths by sniffing out bombs and grenades. His service was particularly important during and after the 1993 terrorist attacks in Mumbai.
During his impressive career, Zanjeer (sometimes referred to as "Ginger" due to the color of his coat) sniffed out over 240 bombs, 600 detonators, 250 hand grenades, 7,340 pounds of RDX explosive, numerous guns and more than 6,000 rounds of ammunition. .
The bomb squad became so dependent on their trusty dogs that sometimes they brought no extra gear, only Zanjeer. He made a lasting impression on the police force and the country of India – as well as the whole world.
Zanjeer's first workout
The dog who was destined for greatness began training for his career as a little puppy. He trained at Shivaji Nagar Criminal Investigation Department Dog Training Center in Pune, India.
Zanjeer, who was named after the breakthrough 1973 Bollywood action movie, turned out to be an action dog.
At just one year old, he started working for the Mumbai Bomb Squad in December 1992. In the early days of Indian Police Dogs, only three Doberman Pinschers made the team: Kumar, Bindi and Rajah. However, the police used them primarily to help solve criminal cases.
At the time of the Mumbai attack in 1993, the bomb squad employed six dogs, one of which was Zanjeer. He was arguably the most reliable and talented detection dog on board at the time. Under the guidance of his handlers, Ganesh Andale and VG Rajput, Zanjeer paved the way for detection dogs in law enforcement.
The 1993 Mumbai terrorist attacks
What Zanjeer faced to keep his country's citizens safe may seem overwhelming. There was a history of bad blood between political and religious factions, and tensions were simmering. Violence can arise out of nowhere — at any time.
In 1992, a right-wing Indian Hindu organization demolished the holy Babri Masjid mosque located in Ayodhya, India. This sparked widespread rioting between Hindus and Muslims, as many Hindus believed the mosque to be the birthplace of the deity Rama. More than 2,000 people died in the riots that followed, which lasted several months.
In retaliation for the damage caused by the riots, members of the Muslim underworld criminal syndicate known as the D-Company planned a bomb attack on Mumbai – then known as Bombay. This attack involved car bombs, scooter bombs, suitcase bombs and grenades planted throughout the city.
Zanjeer went to work, using his three-bark alert to inform his team of the bombs in Dadar, Thane, Mumbra. Shortly after, he helped recover three Type 56 rifles, five 9mm pistols and 200 grenades from 10 suitcases left outside the Siddhivinayak Temple.
He also detected a scooter bomb containing RDX explosives and gelatin sticks.
A few days later, Zanjeer alerted the police again after investigating two suitcases at Zaveri's bazaar that contained nine other guns. In a time so fraught with danger, the number of human lives Zanjeer likely saved during this time is incalculable.
Zanjeer's Legacy
Zanjeer proves that dogs are more than just pets: they will do anything to protect us.
Bomb detection and disposal team leader Nandkumar Choughule said the dog was 'God's sending' and Zanjeer managed to find bombs where the men had failed, according to Foreign Policy .
Zanjeer laid the foundation for detection dog squads across India.
Local union leader (and dog lover) Dilip Mohite said Zanjeer's extraordinary career in the police force deserves recognition. "Police officers who die as martyrs receive praise, but canine limbs go unnoticed," he said.
Sadly, the canine hero succumbed to bone cancer at just 8 years old. The Government of India, along with Zanjeer's fellow officers, buried him with full state honors to recognize his impeccable service to his community. They laid wreaths on Zanjeer before his burial.
He was a much loved dog and he will not be easily forgotten. Citizens of Mumbai often commemorate the anniversary of Zanjeer's death on 16 November.
---
Next, learn about the Mercy Dogs, the unsung heroes of World War I. Then read the true story of Balto – the husky who saved an Alaskan town from certain death.