The Decaturian | Pet Spotlight: Phoebe and Georgia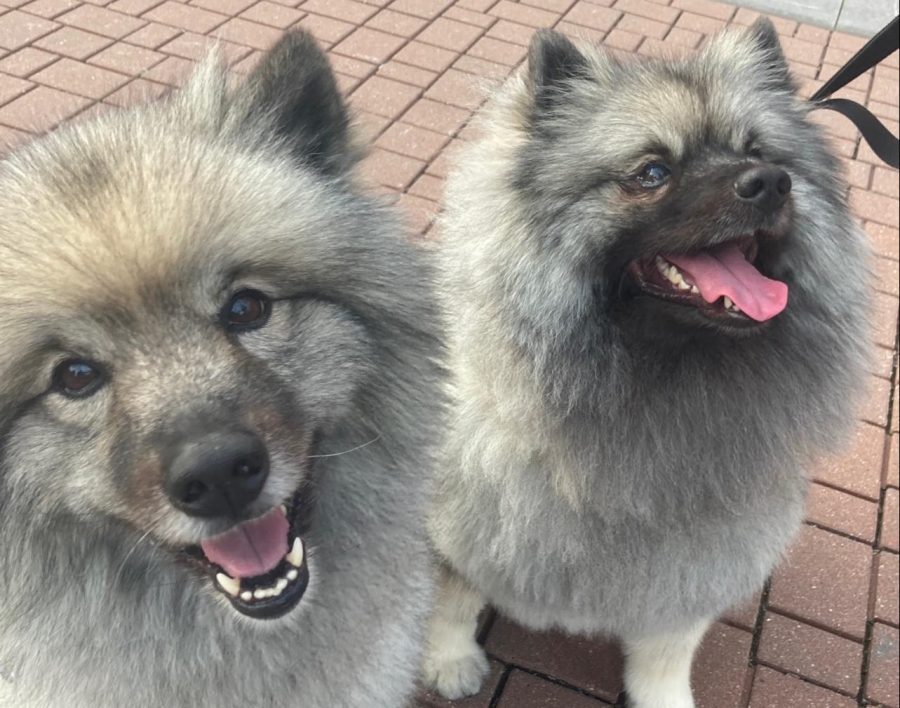 Imagine it's a perfect sunny day on campus. As you walk down the sidewalk from the classroom, you see President Reynolds, his wife Sue, and two fluffy puppies. Let's meet Phoebe and Georgia!
President Reynolds of Millikin University and his wife Sue were looking for a new puppy after their old dog died. After volunteering at the local humanitarian society for a while, they were ready to adopt a new puppy. The couple decided to have another Keeshond as it is the same breed as their previous puppy.
So, in the fall of 2015, they traveled to Pennsylvania and adopted a Keeshond. This Keeshond was born on a full moon, which inspired his name – Phoebe. Phoebe means goddess of the moon.
At President Reynolds' last post at Wilmington University in Wilmington, Ohio, Phoebe loved being a campus dog. She lived for the students and would wait outside the library and student union for them to finish class and visit her.
A few years later, Mr. and Mrs. Reynolds decided that Phoebe needed a friend. So, they decided to adopt another Keeshond. In fact, this puppy was Phoebe's niece and would be called Georgia-Georgie for short. The name Georgia comes from the city of Savannah, Georgia because Georgia's mother was called Savannah.
According to dogtime.com, "The Keeshond is an ancient breed of dog, once a companion and watchdog on the barges and boats that plied the canals and rivers of Holland in the 17th and 18th centuries." Just as it begets the history of being faithful companions, so this fact remains true. Keeshonds are known to be friendly and social with people, children, and other dogs.
Since being adopted by the Reynolds, Phoebe and Georgie have been best friends. They both love being Millikin University puppies, walking around campus, and providing "puppy therapy," as President Reynolds calls it. Off campus, Phoebe and Georgie love to snack on burgers and dog treats. In their free time, doggies love to walk, do dog puzzles, and learn tricks like high fives and sitting.
These furry friends can spend a lot of time together, but they're different. Phoebe is energetic and always on the move! She hardly ever sits down. On the other hand, Georgie likes to sit down and save energy. You should also know that Georgia is not a morning person.
The Reynolds chatted with me about the importance of their puppies to their lives.
"Dogs are important because they can help us be calm, relax and provide us with unconditional love," President Reynolds said.
"I think dogs make better people of us all," Sue said. "They make us better humans!"