PAWS is looking for donations to restock the pet pantry; still awaiting insurance settlement in Florence | New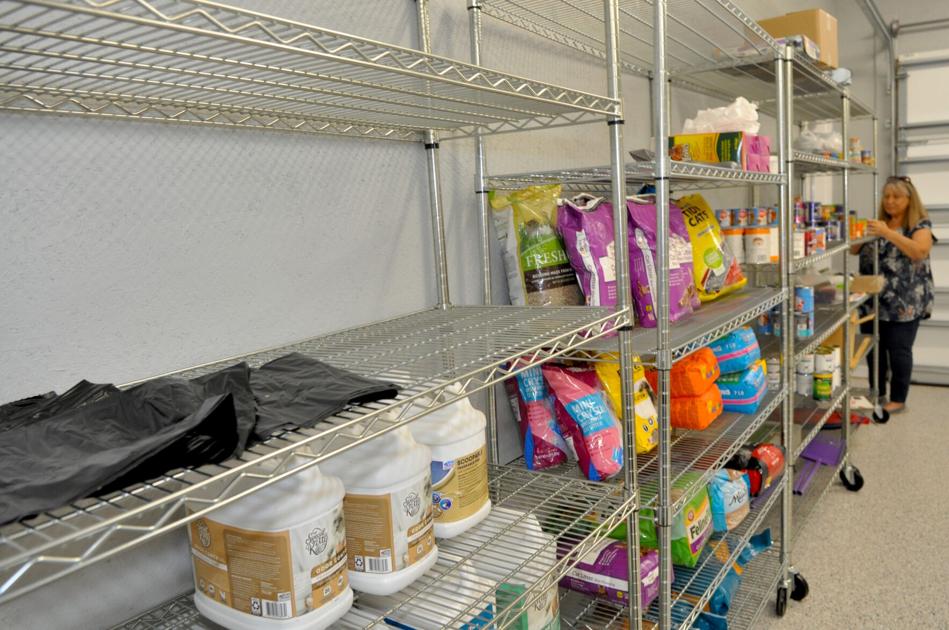 CITY OF PLUS-HEAD – Despite the need for major repairs at its pet adoption center, a nonprofit animal welfare group continues to help families in need with free pet food and supplies.
Carteret's Pet Adoption and Welfare Society (PAWS) needs donated pet food and supplies to continue helping pet owners.
"We still get calls from people every day who need help feeding their pets," PAWS Vice President Donna Youraine said Thursday. "We are trying to restock the pantry so that we can continue to help families. "
Items needed include dog and cat food, kitten and puppy food, and non-clumping cat litter, among others.
As the group continues to help families, Ms Youraine said PAWS is still awaiting an insurance settlement to make approximately $ 200,000 worth of repairs at its pet adoption center located at 5042 Mattie. St. in Morehead City.
"We hope to hear something by the end of July," she said.
It was a long and difficult battle for PAWS, which had just completed building a $ 1.5 million destruction-free animal shelter, part of the Pet Adoption Center, when Hurricane Florence struck in September 2018.
High winds and heavy rains caused extensive damage to much of the pet adoption center, which also houses the business office and education area used to feature free clinics for testing pets. company for feline leukemia and heartworms.
Due to the damage, PAWS had to shut down the center and begin the arduous insurance claim process. It's been a battle since, according to Ms. Youraine.
PAWS also sustained significant damage to its thrift store at 5243 Highway 70 in Morehead City. However, Ms Youraine said when the COVID-19 pandemic hit, many of the store's volunteers left and she was only able to operate the store for limited hours. The thrift store generates funds for PAWS to meet operational needs.
Despite the challenges, Ms. Youraine hopes the organization will receive an insurance settlement soon and start repairing the pet adoption center.
She also wants to start organizing fundraising events again to finish the equipment and staff at the shelter without killing so it can open.
"We are running a fundraising campaign and we need about $ 350,000 for all equipment and first year salaries for staff," she said.
The shelter will accommodate up to 60 animals at full capacity. It will be equipped with an income-generating hydrotherapy unit, used to rehabilitate animals with joint injuries. A small surgical unit is also included and will serve all animals in residence.
There will also be a kitten room, feline playroom, free run cat rooms, canine visitation room for those considering adoption, dog kennels, restrooms and more.
The list of necessary equipment includes surgical equipment and supplies, equipment for admission and examination rooms and more. PAWS seeks sponsorships for big ticket items, such as surgical equipment.
PAWS is also applying for grants to help pay the salaries of key staff, which will include a part-time veterinarian and veterinary technician, as well as two kennel workers. Although PAWS has always been a voluntary organization, Ms Youraine said there will be salaried positions in the new adoption center.
In the meantime, Ms Youraine said PAWS is keen to provide food and pet supplies to those in need once the pantry is replenished.
Those wishing to donate pet food and supplies can text Ms. Youraine at 252-241-9408 to arrange a time to drop off the items.
Those interested in volunteering at the PAWS thrift store can drop by the store located at 5243 Highway 70, next to No Name Pizza in Morehead City. Thrift stores are open from noon to 4 p.m. Monday through Saturday.
Those interested in donating funds to the no-kill center can send checks to PAWS, 5042 Mattie St., Morehead City, NC 28557. They can also donate online at pattesofcarteret.org.
Contact Cheryl Burke at 252-726-7081, ext. 255; send an email to [email protected]; or follow us on Twitter @cherylccnt.