Lost dog rescued near Hooks, Texas, after three weeks of manhunt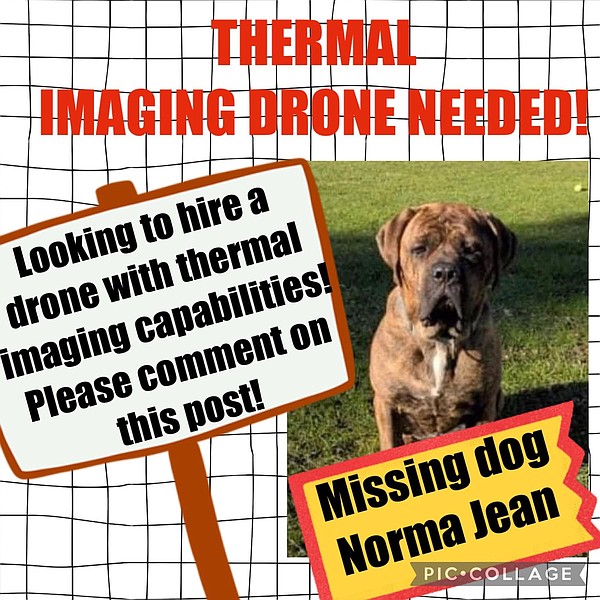 HOOKS, Texas — An exhaustive 22-day search for a special dog named Norma Jean is over. And Norma Jean has gone through the elements and is alive.
The Cane Corso (Italian Mastiff) was operated on Thursday at Dekalb Animal Hospital where she had to have her right front leg amputated. The amputation was necessary because a leash she was wearing when she escaped was wearing on her leg and causing an infection that could not be cured. She also lost 43 pounds as she walked away from those looking for her, said Mark Clifford, her owner.
Clifford of Keller, a suburb of Dallas, said he was relieved that she survived the surgery and was doing well on Friday.
"I want to bring her home naturally but at the same time I don't want to rush it," he said. "She needs to eat better before they can release her."
Clifford was on his way home after picking up Norma Jean from a rescue in West Memphis, Arkansas, when he stopped at Exxon Paradise Quick Stop #13 around 9:30 p.m. on January 2. He was trying to coax her to see if she wanted to go to the bathroom when the unexpected happened.
"Although she had two leashes, she walked right past me. She's a big dog and she's pretty fast," Clifford said. "My biggest fear at the time was that I didn't want her running on Interstate 30 and she ran up the ramp, and you know I was pretty damn worried."
Clifford couldn't see to look for her at night but became a regular in an area that is technically Victory City but considered by most to be Hooks on the weekends and staying in Texarkana hotels while he went searching .
The search included multiple animal rescues, traditional and thermal drones, and trapping devices. The Must Love Corsos Rescue where Clifford picked up Norma Jean helped promote the search by posting on their Facebook page the need for help and announcing that there would be a reward for whoever found her. The Corsos Rescue Facebook page also includes daily updates on the search and Norma Jean's response to her operation.
The day after his escape, Clifford called Greg King of Greg King Canine Recovery of Texarkana.
"I was looking for help and quickly got my hands on Greg King, who is like the ultimate jack-of-all-trades in Texarkana," Clifford said. "There's probably no one who does more for animals in distress than him. He was available to help me right away with cameras and he set up traps and we felt that often an animal that didn't no familiarity with the area will be found near where they fled."
And finally that's what happened.
"She was found just over a mile from where she escaped from," Clifford said. "She was captured so close and it matched her profile. Her adoptive mother told me she was a homebody and would always come back to what she thought was her home."
During the rescue efforts, dog food, cooked foods like bacon and hamburger meat, and rags with grease were laid out to lure Norma Jean, but researchers noted that the food bowls had not been hit, whether near the woods or near abandoned houses where it appeared that she had sought refuge during her escape. About 25 people helped rescue Norma Jean, Clifford said.
On the day she was found, searchers still hoped to find Norma Jean alive, but knew that might not be the case since she had been missing for so long. But between 1 and 2 p.m. on January 22, 19-year-old Chesney Campbell was clearing brush on her father's property when she saw something in the grass.
"I honestly had no idea she had been missing for over 20 days and saw her on my first loop in the field," Campbell said. "I went out to check if she was alive and called my mother-in-law. I'm a big animal lover and it broke my heart to see her lying there.
"I called my mother-in-law and she told me there was basically nothing I could do and let nature take its course. Then she finally called me about five minutes later and I explained what she was doing. looked like, and she told me to stay right there, and she was calling someone to come over to where I was."
King was Campbell's mother-in-law, Della Campbell, called to let it be known that a dog that looked like Norma Jean had been found.
"When I saw her she was maybe 10 feet away from me," Campbell said. "When I first saw her, I saw she was hurt. She was skin and bones when I found her."
When King arrived with his van, Chesney said she helped him put the dog on a tarp so he could take her to the vet in DeKalb. He handed her a poster.
"I thought he was just giving me a poster to remember her, and I will always remember that I saved that dog's life," Campbell said. "I didn't know anything about the reward, I just knew it was a dog that needed help. If it was any other dog, I would have felt the same way. I'm glad they kept me updated on her and she's actually going to survive."
Campbell received $500 as a reward for finding Norma Jean and said she planned to save money.
King said he was terrified for Norma Jean's life when he arrived at the field Campbell had called from.
"I know where the credit is, it's God," he said. "This dog was dying on top of me. It was rolling over, collapsing, grabbing me and prayer brought this dog back. I said to (Campbell) please don't leave this eye dog I said don't take your eyes off the dog then she said you will see a blue tractor when you turn to the field she said I know the owners of the property and that is fine .
King said he wanted to thank Christina Tutt, a rescue worker, for helping him get to the grounds where Norma Jean was found and for helping transport her to the vet. He also wants to thank Keith Roadcap of Texarkana Texas Animal Control for calling him about the dog spotting.
King said naming everyone who helped in the rescue would be long and he was afraid he'd forget someone. However, Clifford said the employees at Paradise Exxon Quick Stop #13 were nothing but helpful.
Misty Stevens Scogins from Hooks and her friend Brenda Tidwell from Redbank got involved in the initial search for Norma Jean on January 3. Scogins said when Norma Jean was found, it was emotional for everyone involved in the search.
"I just started playing ball, it was such a relief," she said. "It got personal. You think of the dog as your own. I asked if I could give him some love and Mark said yes."
Tidwell said the Sunday night before Norma Jean was found, she slept in her car to help King watch the dog. She got up early in the morning to cook bacon and hamburger meat to try to entice him with the aroma.
"Mostly what Misty and I did, we just watched to make sure she didn't come out of the bushes because she could come out at any time," she said. "We parked on the pipeline road and watched all day and sat there every day. We checked all the houses around. It was kind of like investigating and I had never done that before. . Most mornings we would start driving around eight o'clock and stay out sometimes until three o'clock in the afternoon."
Tidwell, an animal lover herself with four dogs and enough cats to keep her food bill high, said the experience made her realize how much animal rescues need donations to keep them afloat. She said they had a hard time doing it and what they were doing was for the best of the animals.
Clifford said he will never forget when he learned she was found on Monday along with other rescuers who had done their part in the search.
"She was found, and she was in a bad state and myself and many of us cried. We cried quite hard for several moments," he said. "I am very happy and relieved that she has been found. It was a double-edged sword if you know what I mean."
Along with finally bringing Norma Jean home, Clifford will also enjoy a small East Texas town called Hooks and the towns around it.
"You know I live in the suburbs of Dallas, and I'm definitely more aware of the struggles that people face and despite that, they have great hearts," he said. "The biggest thing I think you can give is your time. There's just no way this dog was found without the support of the people there."