Downtown Minneapolis dog attacks couple, injures one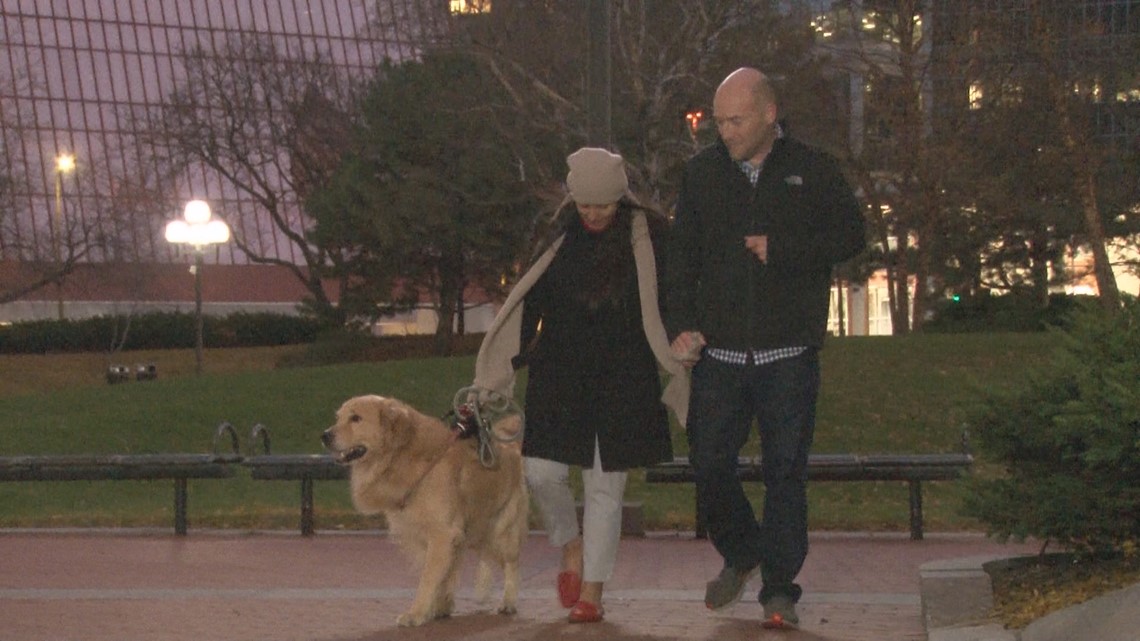 "The dog grabbed my arm, digging into it, while the individual hit me and said 'sick, sick'," said Mike Karbo.
MINNEAPOLIS – On the eve of Thanksgiving, Mike Karbo and his fiancée Cristina have much to be thankful for.
"We were very, very lucky," said Karbo, after being attacked by a pit bull during an afternoon walk through downtown Minneapolis.
"We were just doing our typical route," Karbo said.
Part of this walk was caught on surveillance video, including as Karbo, Cristina and their three-year-old golden retriever Luca were crossing Hennepin Avenue near N 1st Street.
Moments later, a man who was sitting across the street at the intersection was seen in the video dropping his pitbull into traffic, narrowly missing the cars and heading straight for the golden couple retriever.
"I just came over and hit the dog and was going right to his throat," Karbo said. "I knew immediately that I had to get between this dog and our dog."
Karbo says he tried to fight the dog, and about 40 seconds after the chaos, the pit bull's owner decided to step in and he could be seen crossing the street with another man to help break up the situation, or du less is what Karbo said he thought.
"Initially, they never tried to take Michael's dog away. They just tried to kick him and hurt him," Cristina said.
"The dog grabbed onto my arm, digging into it, while the individual hit me and said 'sick, sick'," Karbo explained.
The dog then bit a piece of Karbo's arm, leaving him with nerve damage and 16 stitches.
"The top of my thumb, then the side of my hand, I can't feel it," Karbo said. "I had three layers of clothing and you know it didn't affect any major tendons or arteries."
"We were told the dog this morning was shot and taken to the University of Minnesota for a rabies test," Karbo said.
Minneapolis police say they have contacted the suspect in the case and are actively investigating to see if a crime has been committed.
If so, police said charges would be laid accordingly.
The City of Minneapolis requires dogs to be kept on a leash at all times, except in a fenced yard or designated off-leash park where a permit is required.