A rope team saves a dog | New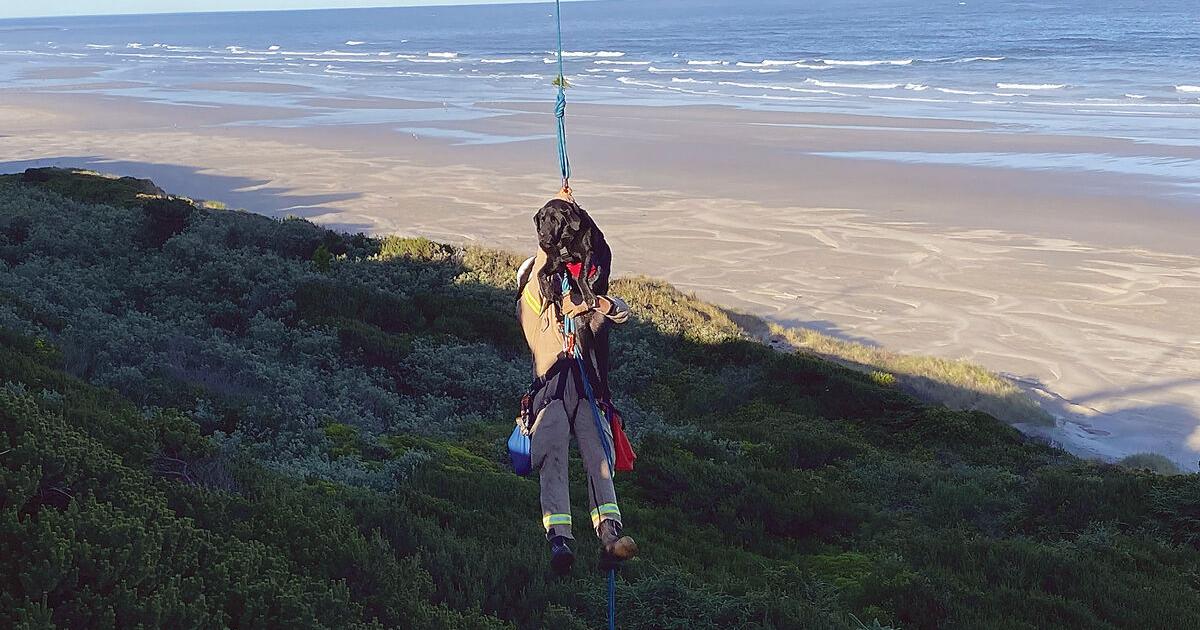 The Lincoln County Technical Rescue Team safely recovered a mature Black Labrador from a cliffside thicket at Nye Beach in Newport and returned him to his very grateful owners.
Around sunrise on Saturday, June 25, Chris and Nancy Giggy were walking their 12-year-old black lab, Jackson, on a gravel section of Northwest Coast Street, separated from the beach by a wide strip of uneven, brush-covered slopes. and a low wooden railing along the road.
"(Jackson) was kind of sniffling under the railing, and he went a little far and put his foot on a bush, and he kind of gave in," Chris said. Jackson had a loose leash around his neck, and he got out of it when he fell over the ledge and slid down the hill about six meters in thick vegetation.
Chris crawled up to him, but said his dog was too heavy, about 90 pounds, to walk up the slope safely, and was too thick and too far to carry him to the beach.
"We were stuck. We weren't sure if we called 911 if they would even respond to something like that," Chris said. "But they were great."
The Giggys said Newport Fire Captain Eric Stafford and Engineer Andy Parker, the county's multi-agency rope rescue team leader, arrived at the scene in about 10 minutes. They assessed the situation and called a ladder truck and other rope crew members. Rescue personnel used the extended ladder as an anchor point and Parker was lowered to the dog on the cliffs.
The ropes team took the same approach about a year ago, just north of the beached dog. A woman walked past barricades and no trespassing signs at Northwest 11th and Coast streets and fell approximately 20 feet onto collapsed concrete slabs in an abandoned condominium development (a place commonly referred to as Jump- off Joe). She injured her ankle and couldn't walk, and the rescue team lowered a skate and lifted her to a waiting ambulance and hospital about an hour after the call.
The Giggys said it was also about an hour between their 911 call and Jackson's security.
"By the time (Parker) got close to him, he was probably down another 20 feet," Nancy said. "And he got his foot stuck in a hole, and there was no way he was going to get out." Parker strapped Jackson into a harness and got him out unscathed.
"When they picked him up, he was able to walk around and lick everyone," Chris said. "They did a great job. We were so impressed.
The couple's gratitude prompted letters to Newport City Council, Mayor Dean Sawyer and Fire Chief Rob Murphy thanking staff for their skilled service.